** Welcome to 2021 - Stay Healthy & Create Some Great Family Memories **
Thank you for your support and let's work together to get through COVID.
Ontario has Declared a State of Emergency and Issued a Stay-At-Home Order!
What does that mean to us and our Valued Customers?
We don't know exactly but heres what we're doing at this time:
OPEN by Appointment Only in Support of the COVID-19 Fight
As of January 14, 2021, we are still not accepting 'Walk In' customers.
All Services Are Available by Appointment - No Rush Services.
Appointments for Pickup & Delivery or Curbside Intake and Return.
We're Not Lawyers - So Work With Us and Lets Do What's Right for the Community
The 'Stay-At-Home' order seems pretty clear. Examples for going out have been cited.
Bringing videos to, or picking up from The VideoGuy Inc. does not appear to fit the examples.
I don't like saying it, but in fact, we are NOT Essential!
So Effective Immediately Our Dedicated Pickup & Delivery Service is Available
A Reasonable Fee Applies and the Service is by Appointment Only
We will still follow our very strict COVID steps for your protection and ours.
If you aren't willing to do some extra work to help us do our part for COIVID,
Please, take your order somewhere else where fast & cheap matters more than your health.
= = = = =
If you believe our interpretation of the Stay-At-Home order is incorrect,
we will provide curbside intake and return as we have been doing for months.
You, will be required to provide a written statement, saying you believe we are mistaken.
We will trust your judgement & as long as you follow our COVID process, we`ll do curbside.
That assumes that No Authority Orders Us to Cease and Desist.
= = = = =
Simple right? - Use our Dedicated Delivery is what we think is the right course to follow.
Curbside, following strict conditions, remains available for anyone who requests it in writing.
Your written declaration will not voluntarily be shared with anyone, but will be released to Authorities,
if demanded by proper court procedures and documentation only.
= = = = = =
If the "State of Emergency and/or Stay-At-Home Order" terms change, we will update our process.
We are not answering phones. All applications for order intake are being accepted by email only.
Visit our contact page and click the email link there to ask about services.
Please be very specific about the items you want converted.
If you are unsure about them, include a picture in your request
= = =
Thank you to all the customers who have expressed your conern and shown your support
by reserving your place in the January work que! Your support is appreciated!
We Wish Everyone Well During this Un-precedented Time in Our History!
'Open to the Public' Hours of Operation have been replaced by "Appointment Hours"
* * TEMPORARY UNTIL COVID IS GONE * *
Saturday, Sunday & Monday - CLOSED
Tuesday to Thursday - 11 am to 2 pm and 4pm to 7pm
Friday is Reserved for Work Only. No Appointments.
Thank You for Trusting Us With Your Memories!
Have you made the switch to Blu-ray? It's almost 2021 and 2nd Generation Blu-ray delivering 4K UHD/HDR is affordable.
Most of the TV sets you can buy are 4K, many are 4K UHD/HDR so your Media Player should be too.
Well designed Blu-ray 4K UHD/HDR Players also play media from SD Cards, USB devices and Internet Streaming.
Convert your Family Memories to Blu-ray and Digital Files Today! All Conversion Services Available to Blu-ray, DVD & Digital Files! Make Memories & Give the Gift of Memories - Because Family & Memories Matter! January 2021 Order Conversion Turn-around Times:
Film Conversion - 8mm & 16mm: 7 Business Days
Slide & Photo services: 8 Business Days
Yes, we do Large Format Slides and Even Glass Slides
Consumer Format Videotape Conversions
VHS, VHS-C, S-VHS, S-VHS-C: 10 Business Days
8mm, Hi-8, D8: 9 Business Days
Betamax and MiniDV: 4 Business Days
Digital Video Formats: 7 Business Days
Cassette & Open Reel Audio Tape to CD & Digital:15 Business Days As always, we will contact you by phone or email as soon as your order is completed.
All Turn-aroubd times are estimated only. Subject to Change..
All orders currently in house are on schedule as predicted when your order arrived.
Go to the Contact Page for Our Location Map. When you Bring your order in, ask us about Blu-ray.
Don't miss out on Better Quality by being under-informed!
= = = =
Our 'Most Popular' FAQ, belongs on the front page. It's Important!
FAQ #3 - Do you do all the work yourself or do you ship it out? Answer: We do all of our own work & we do work for hand picked, select Dealers!
Click Here for Full Answer
= = = =

The Gift of Memories is the Best Gift You Can Give!
Bring us Your Memories. Photos, Slides, Films or Video.
We'll convert them to Blu-ray, DVD or Digital Files for Enjoyable Easy Viewing and Sharing. The VideoGuy Inc - All Your Video Needs, One Source! Technology Done Right - Because Family & Memories Matter! 905-725-6500
After more than 19 Years in Whitby, we Moved to 101 Ritson Rd. North, Oshawa in Feb 2014
Call for directions, or download the PDF Map on our Contact page.
And We Do Much, Much More...
Professional DVD Authoring

DVD and Blu-ray Authoring are extensive processes that require multiple stages starting at Program Design with the objective to create an enjoyable and informative Viewer Experience.
DVD Authoring by The VideoGuy Inc.
TV for Internet Production

The world of Content Delivery is changing and many opportunities now exist for Television style programming to be delivered to focused viewing audiences by the internet.
TV Shows for Internet
Websites

Websites have become yet another Media Carrier for the content we create. So our evolution into Websites is a natural extension of what we do. Kind of like adding a new kind of truck to the fleet we use for delivery.
Read more about websites.
Projector & Screen Rental

Celebration of Life DVDs and Blu-rays have become a must have item for Birthdays, Anniversaries and Funerals. Sometimes you also need a projector and screen. We have them available for Customers who use our production services. This is a value added support option reserved for existing production service customers only. Read more about our AV Support Services.
Music Not Mischief

Here's a Great Program!
Kids learn Music not Mischief!
A program made possible by Police Officers who donate their time to help kids learn to play guitar.
The Finale Concert held Annually at
The Mod Club is an Awesome and Inspiring Event!
Find out how you can help!

Click here
to visit Music Not Mischief!
Even More

Our staff have extensive experience in many areas of Advanced Media so we can provide services you might not expect.

"All Your Video Needs - One Phone Call"
Read more about what The VideoGuy Inc. does.
The Gift of Memories is both Timeless and Priceless!
We're Happy to Welcome our New Customers from
Uxbridge, Markham, Richmondhill, Newmarket, East & West Gwillimbury,
Bradford, Barrie, Orillia and everywhere in between!
Scheduled bi-weekly pick up and return is once again available to these areas.
Call us today to book your order pick-ups.

We do not use couriers or mail service for such valuable assets.
.
We prefer that only our trained and experienced professionals handle your Valuable Memories.
All work is done by us, using only full-time, trained and experienced staff.
We know your Family Memories matter so, we make the extra effort and we encourage you to do the same!
We also have limited service going to the North-East Regions too!
Peterborough, Lindsay, Haliburton, Minden, Bancroft,
Renfrew, Pembroke and all the way to Deep River!
=======================
It's been almost three years since a very close
Friend, Neighbour & Community Pillar closed their doors and Moved On!
It was the End of an Era, a Loss for Everyone and we still miss their presence in our community!
We still see Aldsworth Customers on a Regular Basis and nothing makes us Happier than to hear
we have delivered the same high level of service they were known for! Thank you!
On Friday, January 20th, 2017
Our Friends at Robert Aldsworth's Photo World Closed Permanently!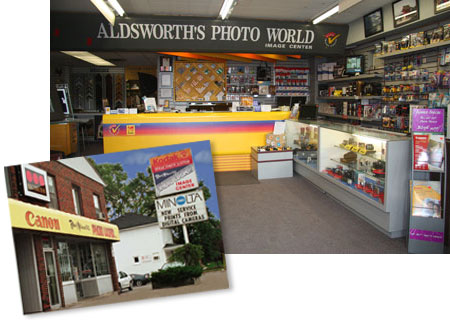 A Landmark Business with good hearted, customer oriented mangement and staff
who served Durham Region for more than 60 Years. We truly miss them.
We are honoured to have been their supplier of video services for the past 10 years.
Robert (Bob) Aldsworth, Kathy Aldsworth and their staff;
Irene, Joanne, Brandi, Janis, Lee Ann and John are well known for delivering
top notch service in a friendly and inviting environment. A Family Business with Heart!
If you didn't get a chance to say Good Bye, we can forward cards, emails & comments to them!
Call us during regular business hours for assistance. Or send us an email.

Robert Aldsworth Photoworld Customers are Welcome here always.
You can bring Video Conversion Orders directly to our location on Ritson Rd (North of Hwy 2).
We will Do Our Best to Meet the Standard of Service you are accustomed to
and continue the Tradition of Excellence set by Robert Aldsworth's Photo World!
Over 35 Years Professional Video Experience!